Standard U.S. Ground Shipping Days
Business days in transit from: UNION, MO 63084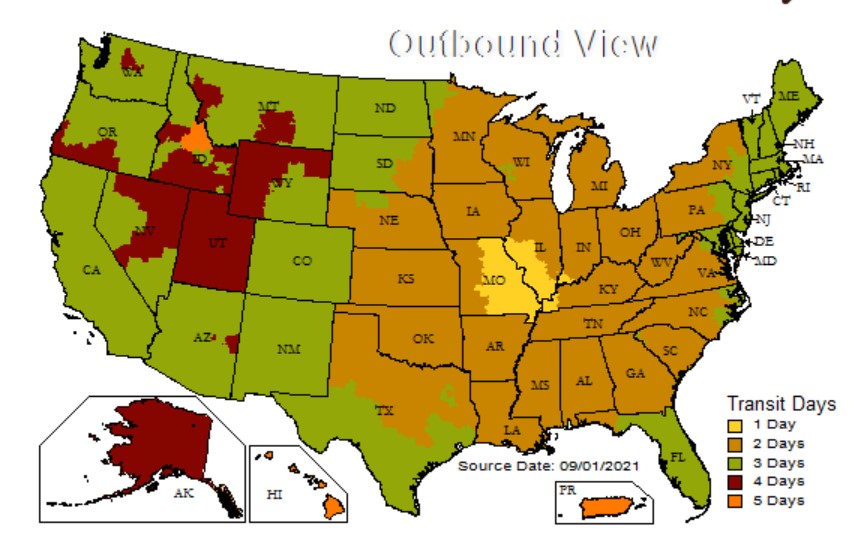 Shipping:
UPS , FedEx , USPS Ground will be used to ship most items. Truck freight used for larger items and will require someone to be present with a fork lift to unload. Some products must be delivered to a commercial establishment only.
Damaged Product:
If any product arrives damaged, save the shipping container and notify Septic Tank Parts immediately. Please do not return damaged, broken products or you may not have a right to file a claim with the carrier. You must contact Septic Tank Parts within 5 days, we will need pictures E-mailed to us to back up the claim, and then we will contact the carrier.
Return Policy:
No merchandise returns will be accepted without RMA# (Return Merchandise Authorization) from Septic Tank Parts If you have a return, you must call us first at 1-800-778-1540 to receive your RMA#. No returns are accepted after 30 days from date of purchase. No returns are accepted if the merchandise is not acceptable by local Regulatory Authorities.
All merchandise returns must be returned in new condition including all original packaging and paperwork in order to receive a refund or replacement product. Please note that we do not issue refunds on used merchandise. For an approved refund, we will credit the cost of purchased merchandise according to your method of payment, excluding shipping/freight charges. Return shipping/freight charges are assumed by you the customer and must be prepaid. Cost of shipping merchandise to Septic Tank Parts is not refundable
International Orders: Customs and/or Import Fees:
You may be subject to import duties and taxes, which are levied once the package reaches your country. Additional charges for customs clearance must be borne by you the customer. We have no control over customs duties or import fees and cannot predict their cost. Customs policies vary widely from country to country; you should contact your local customs office for further information. Septictankparts.com is not responsible for determining the cost or collection of these fees. All international orders are final.